Informations.
Location of the kibboutz Mashabei Sadeh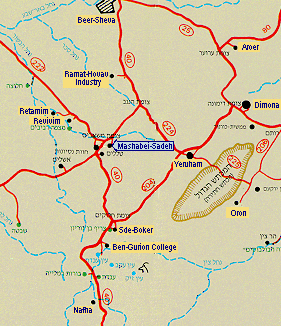 The cost of the course, will be directly paid to the kibbutz.
The Course: THINK AND SPEAK IN HEBREW.
Initiation to the Jewish way of thinking.
Program for adults ( 20-120 years old ), wishing to acquire the basics of hebraïc language, in a thinking perspective of Judaïsm.
This session of 8 weeks long, run in the Mashabei Sadeh Kibbutz, will give you the opportunity to discover an original lifestyle, within a rich historical region, an insight to the future, and also an interesting approach to the beginning of the biblical feasts of the Year.
The Kibbutzimmer Center, is located in the heart of the Mashabei Sadeh Kibbutz ( Negev plateau). The rooms ( shower/ private toilets , air-conditioning, TV, refrigerator and internet connections), are basic and attractive, the surroundings are picturesque (somewhat similar to the Pioneer Era).
The setting of the studies: Modern Hebrew, 5 days * courses of 45 minutes, 6 times a week , a series of meetings, visits, conferences and excursions. In addition, 2 courses of biblical hebrew twice a week.
The content of this course in the Negev Desert, will cause you to reflect on the evolution process of religions, precisely where the Patriarchs walked through on their way to Egypt, and where the Hebrews came back to their way out from Egypt.
As is the custom in our courses, part of the teaching is given on the spot, to favour direct contact with the local people and surrounding sites.
Included in the total price: Full pension ( lodging and food ), studies, cultural activities, visits, meetings, conferences and excursions in the neighbourhood, according to the program. The participants have access to the sport facilities, swimming-pool, library, disco-bar, and other public places on the Kibbutz site.